Last Updated: 10/30/19
Model Overview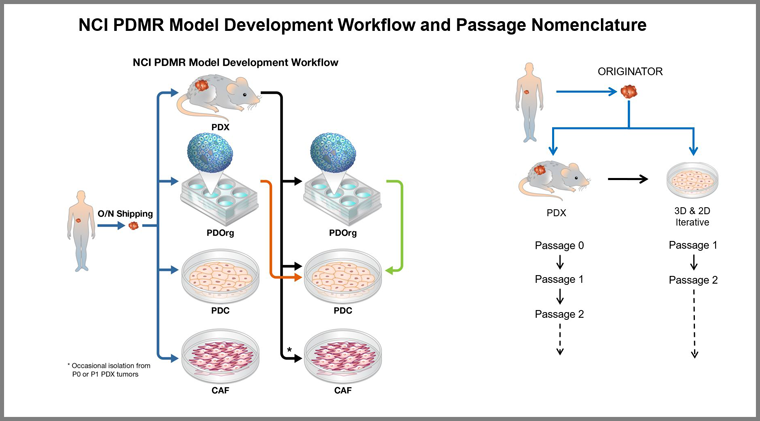 Overview
The PDMR's primary source of tumor material for model development are two NCI-sponsored protocols: NCI Tissue Procurement Protocol (clincialtrials.gov: NCT00900198) and CIRB Tissue Procurement Protocol 9846. In addition to fresh tissue specimens, we have also obtained viably cryopreserved patient tumor tissue, rapid autopsy material, and previously-derived PDXs from outside groups. All such specimens have been collected under IRB-approved protocols and released through MTAs to allow use and distribution with the PDMR.
We continue to seek external site (profit and non-profit) contributors to provide previously-derived models or patient material to the PDMR for model generation and release to the research community. All models received by the PDMR go through the same QC procedures that are applied to internally-derived models.
Quality Control
The PDMR places stringent QC criteria on models.
Short Tandem Repeat (STR) profiles are provided at the patient-level in the PDMR database for model validation. They are generated for all distribution lot material and are reported in toto for a model. For example, if a model has PDX and PDC material, all STR profile variants will be reported. The STR profile for any model derivative (PDX, PDC, CAF, PDOrg) is provided for reference.

These profiles should be used to validate the model at multiple points during the experimental process.

Human DNA content is analyzed by qRT-PCR to verify model origin.
Pathology and/or IHC markers are confirmed relative to the patient diagnosis with all tumor models by a clinical pathologist.
Concordance of STR profile and whole exome sequencing (WES) across all characterized model data.